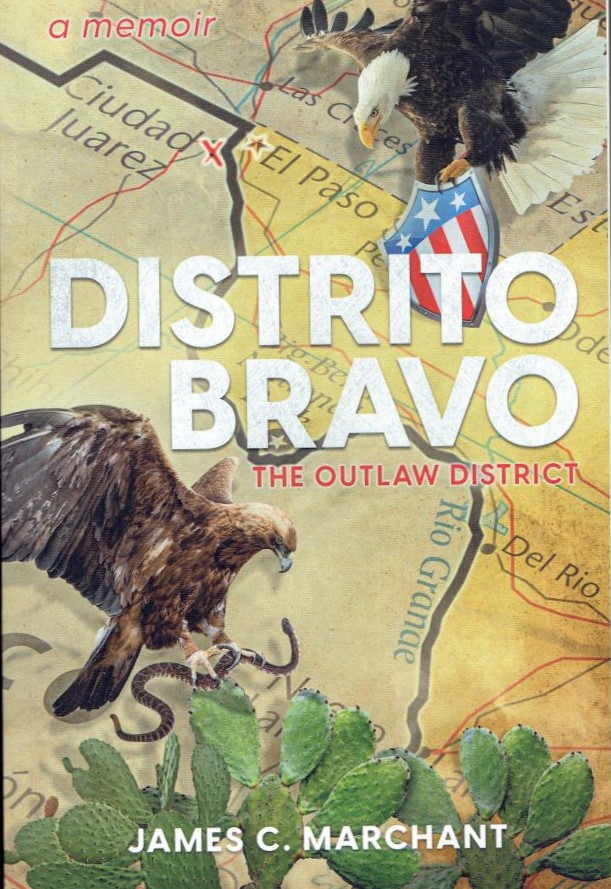 READ THIS TERRIFIC NEW MEMOIR about drug enforcement along our increasingly lawless southern border by retired U.S. Customs James C. Marchant. Stationed out of El Paso, Texas, the author spent three decades confronting drug traffickers, modern-day gunslingers, and desperados of every stripe in the badlands along the Rio Grande downstream from El Paso. A truly remarkable story, told with a writer's eye for telling detail.
From the Amazon book page:
Conflict at the U.S./Mexico border has been brewing for decades . . . but the drug lords aren't the only enemy.
In the lawless Distrito Bravo region, U.S. Customs Special Agent James Marchant develops a fearsome reputation for his uncanny ability to ambush drug smugglers and thwart their deals.
Surprisingly, his success is largely due to his determination to treat all people with respect and dignity. Marchant forges indelible friendships with civilians on both sides of the border and also with some of the very criminals he pursues. The brave souls in Marchant's network risk everything to help him.
When his victories attract attention in Washington, D.C., Marchant soon learns the cartels aren't the only enemy he faces. Corrupt individuals within U.S. government agencies are profiting from the continued war on drugs—but he stands in their way.
Marchant confronts dangerous foes both within his government and across the border, finding courage in his commitment to truth and justice. His experience on the front lines of America's drug war shines a light on current border policies, their effect on the region, and the truth about how high-stakes decisions are actually made.
A sampling of praise for Distrito Bravo:
"I started this book and could not put it down!" Sgt. First Class (Ret.) William "Bill" Baggs
"Distrito Bravo Is an eye-opening account of crime, families, crime families, friendships, and faith along the U.S.-Mexico border. The dual threat of narcotics-murderers in Mexican cartels and cowardly, corrupt political operatives in the U.S. government is put into clear focus . . . a detailed, compelling, firsthand overview of 30 years of bungled border policy that people of all political stripes concerned about border security, concerned about the safety of women and children at the border, and concerned about civil liberties in the United States, should read." —Marcel Sanchez, El Paso educator
"Distrito Bravo is an accurate, detailed record of events that took place on the U.S. border around El Paso, Texas. Exemplary job performances and dedication to duty of U.S. Customs agents are shown struggling with bureaucratic oversight that frequently hindered real border enforcement operations. Senior officials never hesitated to disavow of pull support from such operations should any unforeseen event disrupt their political agendas. These agents put their lives on the line in service to our country, fighting the free flow of narcotics into our cities and communities." —Michael Warren, pilot (Ret.), Governor's Office, State of New Mexico
"This book had to be written! Marchant makes the reader aware of what happened at our borders from the '70s to the '90s, and it is still happening at the present time. The book shows how difficult it is for dedicated law enforcement officers to do their jobs. It is essential reading to be able to understand the current situation at our southern border. Hopefully, it will trigger the changes necessary to secure our border. Unfortunately, those changes must come from the top, initiated by competent leaders who put the well-being of our nation before their own personal interests." —Gerd R. Holz, former E-8 MSG, German Air Force and U.S. citizen
[AMAZON]