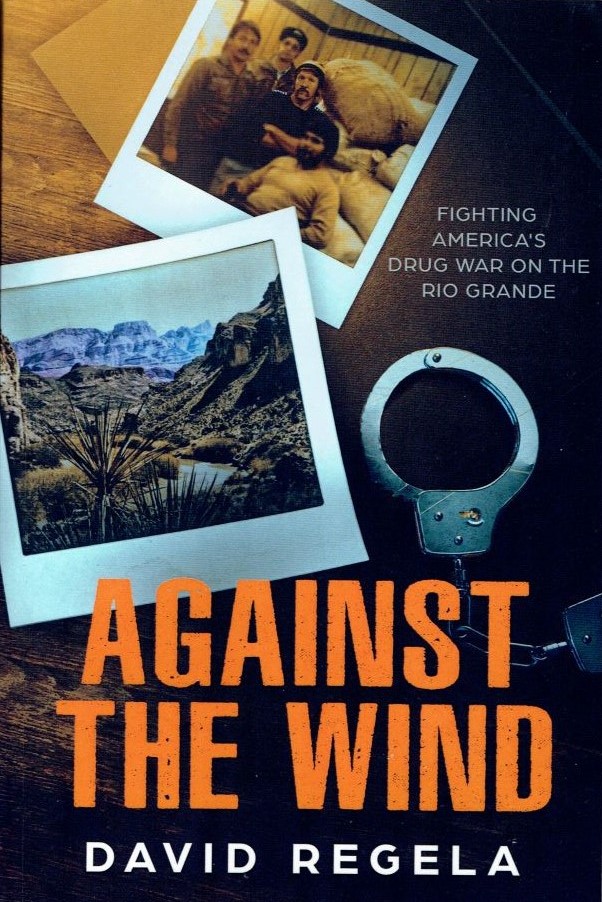 TAKE A LOOK at this new and important book by former federal drug agent David Regela about our lawless border with Mexico, now undergoing a virtual migrant invasion along with the usual massive smuggling of dangerous drugs. The author came to the border just as drug trafficking exploded with the arrival of tons of Colombian cocaine. He stood his ground against a seeming wall of smugglers who took advantage of our poorly guarded border to bring in harmful drugs. Regela arrested many of them, sending them off to jail to serve often long sentences. Against the Wind is an exciting account of his work, and an eye-opener about the ever-worsening state of our border with Mexico.
From the Amazon book page for Against the Wind:
Pablo Acosta and Amado Carrillo-Fuentes have become infamous . . . but the agents who risk everything to stop the drug lords remain in obscurity. Now, Agent David Regela exposes the shocking truth about the real enemies in the war on drugs.
As a new federal agent for the U.S. Customs Service, David Regela was eager to help stabilize the situation along the southern border. On the front lines in this lawless territory, his survival depended on quick reflexes and even faster thinking. At any moment, he might be in an Old West–style gunfight or deep undercover within a multimillion-dollar drug operation.
During his career, Regela's courageous contributions resulted in several noteworthy successes. Award-winning journalist Charles Bowden (Down by the River) names Regela the only undercover agent to get close to Amado Carrillo-Fuentes, the fabled Lord of the Skies. Regela also interacted extensively with Mexican warlord Pablo Acosta.
But success came at a price. Corrupt, self-serving agents within various U.S. agencies benefited by perpetuating the war on drugs, and Regela became the target of an unethical internal investigation designed to arrest him.
He would have to choose between his career and his integrity.
Regela's fascinating account provides an inside look at how the war on drugs has created a killing field along the border today. Against the Wind is a must-read for citizens seeking to be more informed about this volatile region.
A sampling of praise for Against the Wind:
"Bandidos, shootouts, undercover capers, close calls, drug lords—Regela takes you for a wild ride in the still Wild West." —Daryl Barnes, Attorney at Law
"An accurate account of the undercover king. I know. I lived many of those pages with Special Agent Regela." —James Marchant, Retired Special Agent, U.S. Customs Service
"Regela's tale is artfully crafted and leaves the reader wishing for more stories at the end. His moral code seems to have emerged intact after repeated challenges. Personally brave, sometimes reckless, Regela interestingly avoided deadly force in multiple instances where it was justified." —Former Criminal Prosecutor, National Wildlife Magazine Publisher
"I had the honor of working narcotics during the tenure of David Regela. He was known for his undercover ability and the unreal cases he brought to the table—admired by other top investigators and hated by those incapable of doing the job. This account brings those days stunningly back to life." —Johnny Eoff, Former El Paso Police Department Swat Team Leader
[AMAZON]